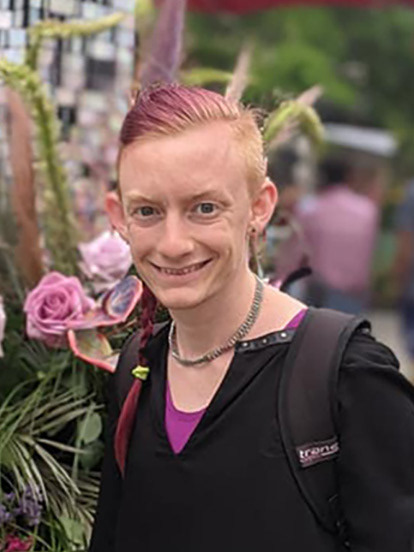 Theo Campbell (they/them/their) is a costume designer, milliner, and scholar based in Philadelphia and New York City.  They are highly skilled at applying queer theory and also rhinestones in places one might not expect them. Favorite credits include designing the Zoom staged reading of Cercle Hermaphrodites by Shualee Cook at Parity Productions, assisting David Woolard on the world premiere of Stonewall at the New York City Opera, and making hats for shows including Wicked and The Marvelous Mrs. Maisel at Lynne Mackey Studio.
Theo went into costuming because they believe art has a tangible ability to change the world, often just by bringing a little bit of light into dark times, and thinks their role in this is through making pretty (or often not so pretty) garments and wearable art. Theo is especially interested in being a part of work that pushes the boundaries of genre and form and in working with other queer and trans artists. Their MFA thesis was a punk rock musical version of Caryl Churchill's Vinegar Tom that took place during all the waves of feminism and also at a DIY punk concert (check out what that looked like
here
).  
Currently, Theo is embarking on a new adventure in academia at Villanova University in Philadelphia, PA where they are studying how clothing and other aspects of material culture are represented and misrepresented in literature, particularly in nineteenth century travel narratives.